Archive for August, 2012
Huge apologies to everyone who entered the giveaway for this customised storage house, and who has been waiting to hear who has won! I have been working very hard on a number of new projects since the the giveaway closed, and my blog has suffered a bit as I couldn't find time to post. It's time to put things right now… We have a winner!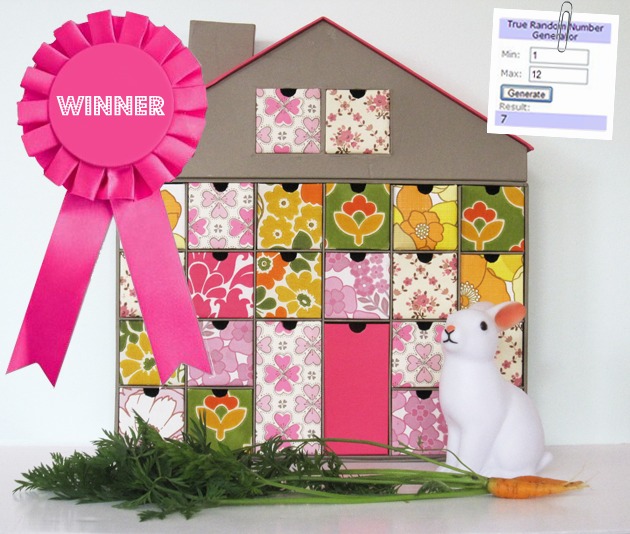 The random generator picked number seven, meaning that Anna Nowinska-Boardman has won the house! I hope it will be a worthy new home for her daughter's pebble collection.
If you would like to be kept up to date about the next giveaway, make sure to subscribe to the Room to Bloom newsletter at the bottom of this page. Promise I'll be quicker to announce the winner next time : )
x Ursula
(image room to bloom)
There has been a big trend for photo realistic animal prints on kids bedding of late, and now that H&M have joined the party, I couldn't resist doing a 'high vs low' post.
So, let's have a look at the range. First off (left) on the highest end of the scale is the iconic, beautiful kids bedding from Danish designers By Nord. The 135 x 200cm size costs £92 and is available here. (I've also posted on their new baby bedding range here.)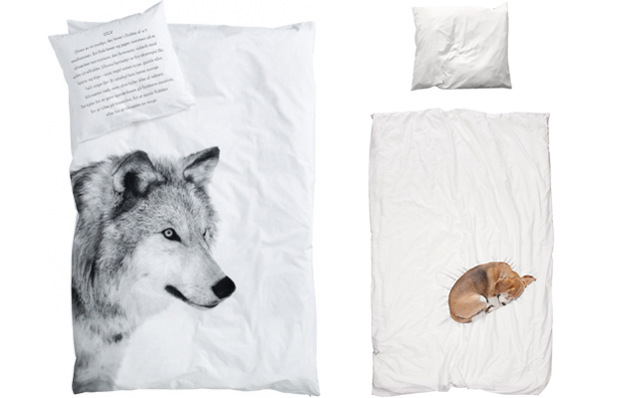 Mid-range: Bob the dog from Snurk bedding (above right). I love this design so much, as it's simple (no repeat print on the pillow case) and imaginative – I would have loved a dog sleeping on my bed when I was little. Bob loves stealing sandwiches from the kitchen counter apparently, which  makes him even more appealing (read more about him here). Snurk ship from the Netherlands – the single size 140 x 220cm is approximately £47 plus postage.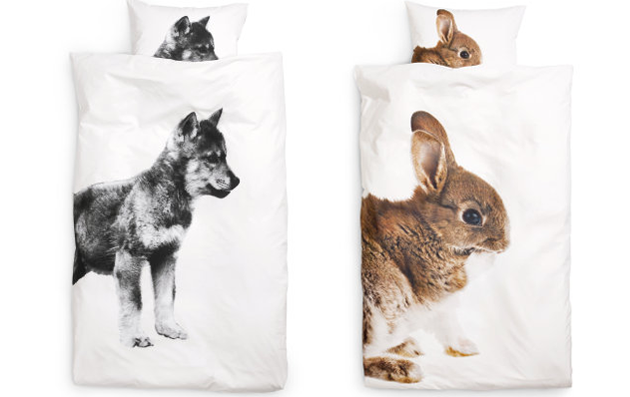 On the budget end of the scale, H&M has now also included two animal print kids duvet sets as part of their recently launched H&M Home Kids collection (which includes some nice, modern, not-too-sweet designs by the way, so do check it out). The husky puppy and baby rabbit sets cost £14.95 each – I was surprised to see that they are made from organic cotton at this price. I'm still trying to make my mind up about the design 'cross-pollination'. What do you think – and which do you prefer?
(images: By Nord, Snurk, H&M)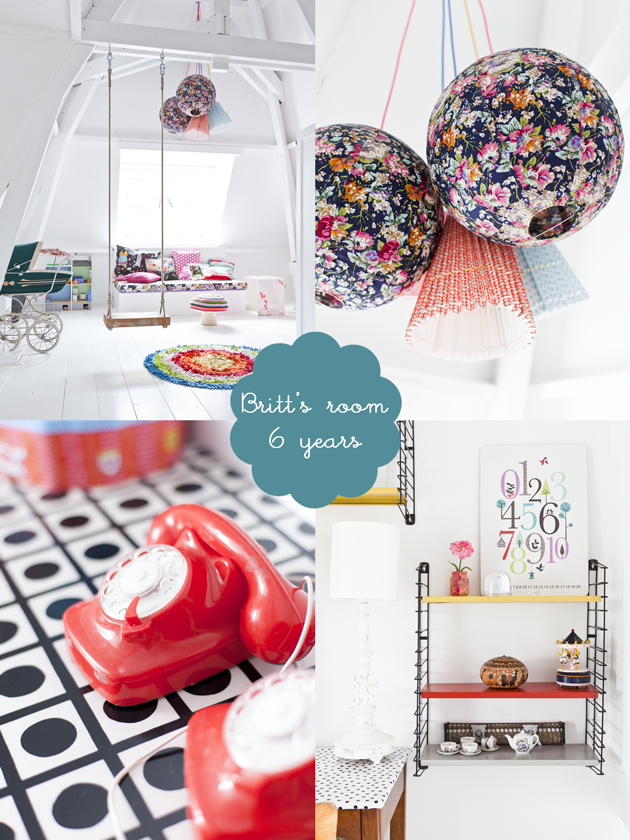 This light and bright girls bedroom belongs to Britt who is six years old. She lives with her family in Haarlem, a town near Amsterdam in the Netherlands. Britt's room was decorated by her mum Mascha, who is a freelance event manager.
Mascha's best tip for decorating a kids room is to keep the background white. It's timeless and flexible, so the room is easy to adapt as your child grows older. She's provided plenty of storage in Britt's room – cupboards with doors keep things looking tidy. Mascha prefers to look for small pieces of furniture, such as little cabinets and chairs, in charity shops and at flea markets – they have more character than new furniture and are often much cheaper too.
Let's find out a bit more about Britt now!
♥ What is your favourite food? Tortillas.
♥ What is your favourite pastime? Playing on my swing, skateboarding, playing outside, painting and jumping rope.
♥ What is your favourite colour? Yellow, gold, silver, pink, purple, light blue.
♥ What is your favourite animal? Horse, cat, dog, guinea pig, hamster.
♥ Your favourite book? Tow Truck Pluck (Pluk van de Pettenflat).
♥ Which country would you like to visit? Bali (we're going there on holiday soon!)
♥ What do you want to be when you grow up? A hairdresser or cook.
♥ What is your favourite thing in your room? My swing.
♥ What is your favourite duvet cover? The one with the rabbit (new from H&M Home Kids).
Thank you Britt, it was really nice to meet you. Have a great holiday!
(images: 101 woonideeën, photography by bart brusse,  styling by valerie van der werff)