Archive for May, 2015

I love play kitchens – especially the ones that are cobbled together from bits of old furniture and everyday household items. Off-the-shelf play kitchens can be great too, and form the starting point of a little play corner. Add some shelves and a small wall cabinet for example, or some mini curtains to create storage under a worktop.

Real kitchenware adds to the make-believe – I love the coffee maker and whisk above for example. You could try sourcing enamel kitchenware, colourful melamine cups, plates and bowls, or go down to your local charity shop and see what you can use – you may be lucky enough to find some vintage baking tins or cookie cutters.
For cooking utensils, try Ikea – they do a great range of pretend ones which are safer and easier to handle, as well as cute pans and a baking set. There's some great fruit and vegetables too, or check out these lovely handmade ones at Mamma Couture.

If you would like a handmade play kitchen but have no time to get creative, you can enlist the help of the wonderful Macarena Bilboa who specialises in making play kitchens. Done!
1. bunting  2. cups print  3. pear decoration  4. enamel plates  5. apron  6. blue DIY play kitchen  7. apple chalkboard  8. kitchen utensils
 (images: janae at the itsy bitsy house via design sponge, rachel denbow)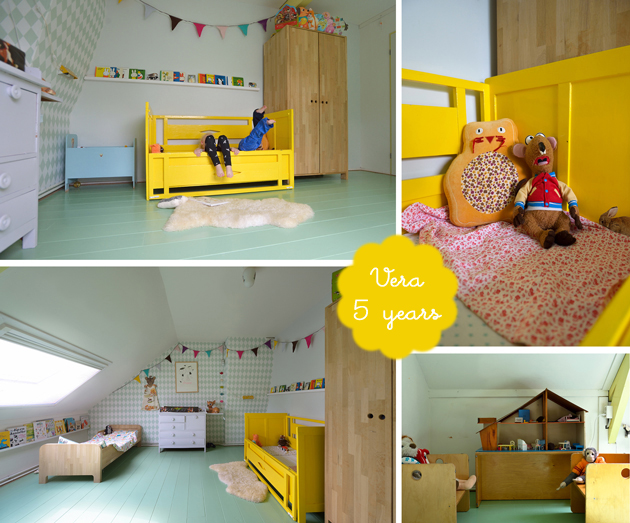 This colourful children's room belongs to Vera and Olaf who are five and three years old. The family lives in an apartment in Groningen, the Netherlands.
The kids' bedroom was designed by their mum Madeleine, who is an illustrator of educational books. It features mint harlequin wallpaper with matching painted floorboards, combined with strong yellow and natural timber accents. Madeleine's advice when it comes to designing your child's bedroom is to research what style you're attracted to – using Pinterest, blogs and magazines for example.
The photos above were photographed by Kiyomi Yui, who shot 21 kids' rooms for a Japanese publication called Kinderkamers van Nederland ("Kids' Rooms in the Netherlands") by publishers Tatsumi.
+ + + + + + + + + + + + + + + + +
Time to learn a bit more about Vera now! Tell us Vera,
♥ What is your favourite food? Yoghurt with fruit, cinnamon and honey.
♥ What are you into right now? Singing along to Frozen with my dolls Anne and Elsa.
♥ What is your favourite colour? Pink and yellow.
♥ Your favourite animal? Cats and rabbits.
♥ And your favourite book? The Gruffalo.
♥ Trousers or skirts? Skirts with leggings or tights.
♥ What do you want to be when you grow up? Princess Elsa.
♥ What do you love most about your room? My Barbapapa lights.
♥ Which is your favourite duvet cover? I don't know.
♥ Your favourite pyjamas? My pink ones.
Thank you Vera, it was lovely to meet you!
(photography by kiyomi yui)

My Baba asked me to share some tips for decorating a small nursery. Hop over to their site to read my tips on how to make the best of a small space here.
(image: room to bloom, photographer brett charles)