Archive for July, 2015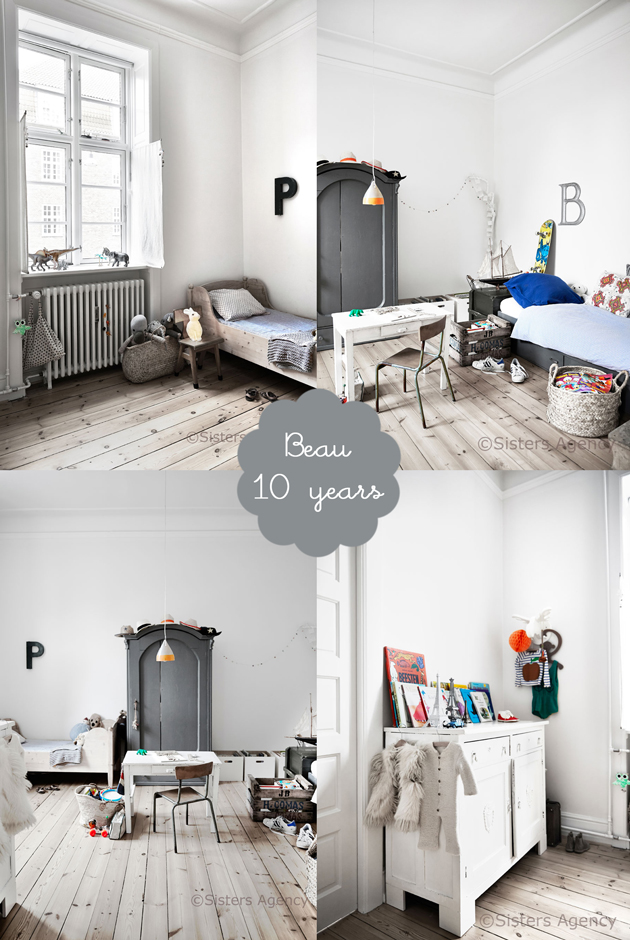 This beautiful kids' room is shared by Beau, who is ten, and his brother Pepijn who is five years old. The family lives in a city apartment in Copenhagen, Denmark.
The boys' bedroom was styled by their mum Irene, who is a Dutch artist and stylist (you can see Irene's paintings here). The room is characterised by high ceilings and natural wood flooring and is complemented by an eclectic mix of simple, timber furniture and vintage details in a reduced palette. Irene's advice is to keep rein of the design yourself, but use the children's belongings to style their space. That way you create a happy place that's easy on the eye.
 + + + + + + + + + + + + + + + + +
Let's have a chat with Beau now! Tell us Beau,
♥ What is your favourite food? Pizza.
♥ What are you into right now? Playing outside and sports.
♥ What is your favourite colour? Blue.
♥ Your favourite animal? Sheep.
♥ And your favourite book? Donald Duck.
♥ What do you want to be when you grow up? Basketball player.
♥ What do you like best in your room? Chilling and reading on my bed with lots of cushions.
♥ Which is your favourite duvet cover? The blue linen one.
♥ Your favourite pyjamas? Jogging pants and a T-shirt – or the Goat-Milk ones which are super soft!
Thank you Beau, it was great to meet you!
(photography by Birgitta Wolfgang | Sisters Agency, styling by Irene de Klerk Wolters)

Homes & Gardens asked me to give my expert view on creating schemes that last as part of their feature on children's rooms. The issue is out now, with six pages of design ideas for kids' spaces. Get a copy whilst you can!
Update: You can read the article on my press page now here.

I have soft spot for wallpaper in girl's rooms, so to list just six for my monthly edit at Mr Fox was testing. But here they are. For sources and where to buy, hop on over to Mr Fox: Wallpaper for Girls.
(image: room to bloom)