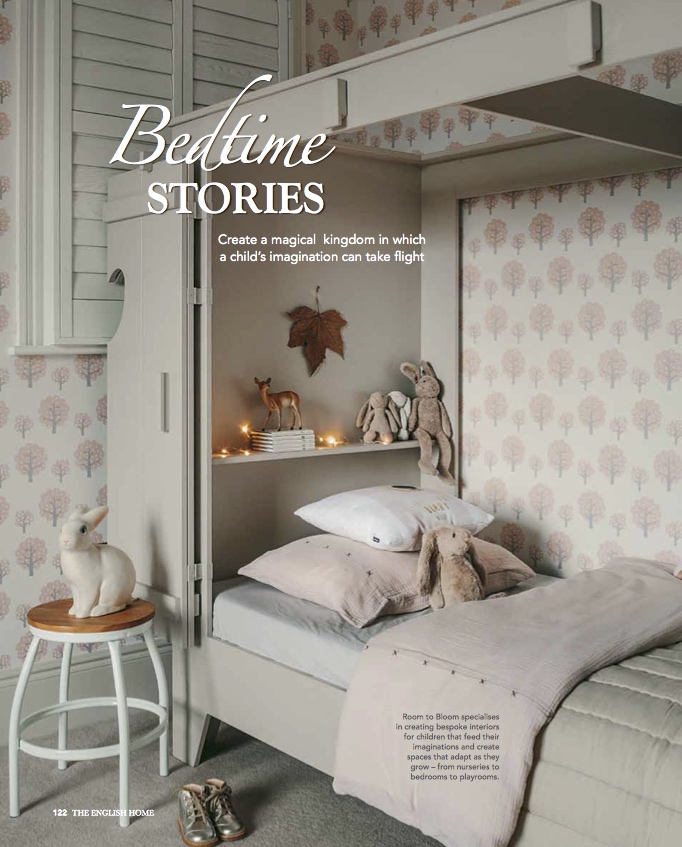 I was thrilled to see Charlotte's room being featured in the April edition of The English Home. The article offers lots of expert tips on decorating children's bedrooms, along with inspirational photos of beautifully designed kid's rooms.

I was very proud to be featured in the Essential Guide to Children's Rooms by Essential Kitchen Bathroom Bedroom magazine in their August 2016 issue. The article features lots of tips and advice from children's interior designers the world over, alongside gorgeous photos of kids' rooms to inspire.
If you'd like to read my tips on how to use colour and pattern in kids' rooms, you can find the full article on my Press page.
(image: ekbb & room to bloom)

Very excited that Charlotte's pretty grey bedroom was included in this month's children's interior design feature for Elle Decor India! Her little reading nook was shown alongside a brilliantly styled shoot focussing on natural materials in kids' rooms.
(image: elle decor india & room to bloom)

I'm very excited that one of my children's room designs (Dylan's Room) is featured in this month's issue of House & Garden! It's part of a wider article by Rose Dahlsen with interior design ideas for children's rooms. You can read the full article, including my top tips for designing children's rooms, on my Press page.
(image: room to bloom/house & garden)

Where to start when decorating a child's bedroom? You can now read my interior design advice for children's spaces in Homes & Interiors Scotland's fabulous Kids' Bedrooms Look Book! There's some super lovely ideas here, plus lots of photos to inspire. You can see the full article on my press page.

I was asked by Living Etc to comment on the trend of house-shaped furniture in kids' rooms for their January feature on children's room design. The article highlights current trends in children's interiors and offers plenty of decoration tips by a host of kids' design experts. You can read some of it on my press page here.


I am super excited that Room to Bloom is featured in House & Garden's December issue in an article about The List, House & Garden's new online interior design directory! The beautiful photo of Georgie's room taken by Brett Charles was also picked to feature on the kids' room section of HOUSE, House & Garden's website.

Update: You can now read the feature on my Press page here.

This month you can read my tips and advice on how to decorate a gender neutral nursery in Baby London's November/December issue. Aside from tips there's a section with my pick of the the prettiest gender neutral nursery decor and accessories, so if you're looking for inspiration get your copy now!
Update: You can now read the article on my Press page here.

I was interviewed by Kin magazine, an in-store publication from nursery brand Mamas & Papas, about children's interior design. I really enjoyed enjoyed their questions, Kin put some real thought into them – and the same can be said about the rest of the magazine. You can pick up a free copy at Mamas & Papas in-store, or you can read more about why I design for children, plus lots of tips in the online magazine here.
PS: the cover of issue no.4 is a Liberty print to signal the collaboration between Mamas & Papas and Liberty London which launches in-store on 7th September: gorgeous Liberty prints galore on children's clothing and interiors accessories!
(images: kin magazine)

Homes & Gardens asked me to give my expert view on creating schemes that last as part of their feature on children's rooms. The issue is out now, with six pages of design ideas for kids' spaces. Get a copy whilst you can!
Update: You can read the article on my press page now here.