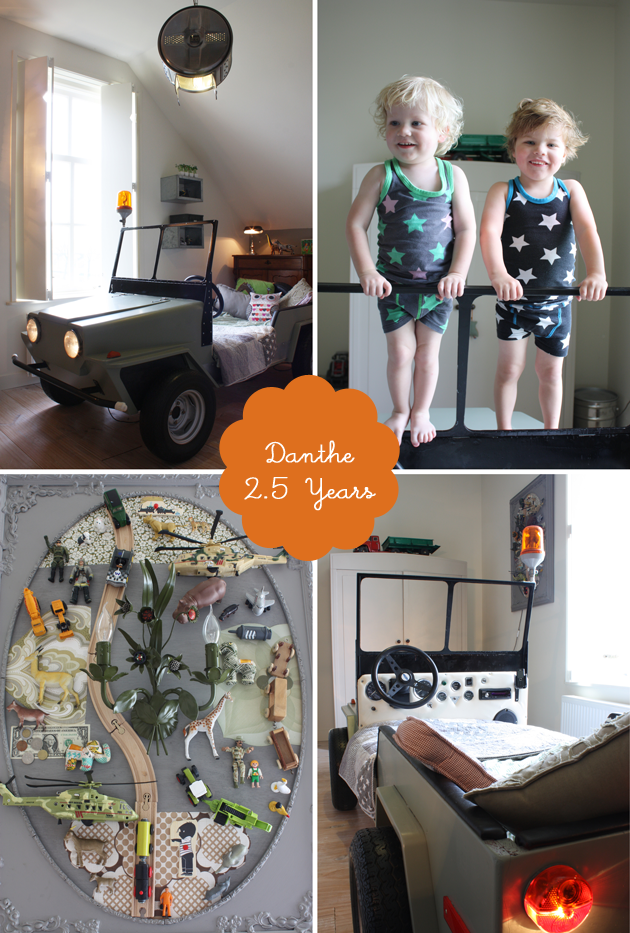 This cool boy's bedroom belongs to Danthe who is two and a half years old. He lives with his family in an old farmhouse in de Meern, The Netherlands.
Danthe's super creative mum Antoinette designed his bedroom using grey as the main colour. She found the Jeep on Marktplaats (a Dutch version of eBay) and turned it into a bed – complete with working lights. Antoinette made a lamp out of a washing machine drum, and the framed collage you can see above. (If you would like her to make one for you, contact Antoinette by email at abrundel[at]gmail[dot]com).
Antoinette's best advice for designing your child's bedroom is to let your imagination run free – the sky is the limit. Create a colour plan beforehand, but take care not to repeat colours too much, as this will tend to make it look too matchy-matchy and a bit boring.
—————————————————————————————————————————————————————————-
Now let's find out a bit more about Danthe! Tell us Danthe…
♥ What is your favourite food? Fried eggs.
♥ What is your favourite colour? Green.
♥ What is your favourite animal? Cat.
♥ Your favourite book? Dikkie Dik [adventures of very curious cat].
♥ What is your favourite thing in your room? My car bed, I love playing with it.
♥ Which is your favourite duvet cover? The one with the stars.
♥ Which are your favourite pyjamas? The ones with with diggers and tractors.
Thank you Danthe, it was lovely to meet you!
(images: Ursula Kemp)
---