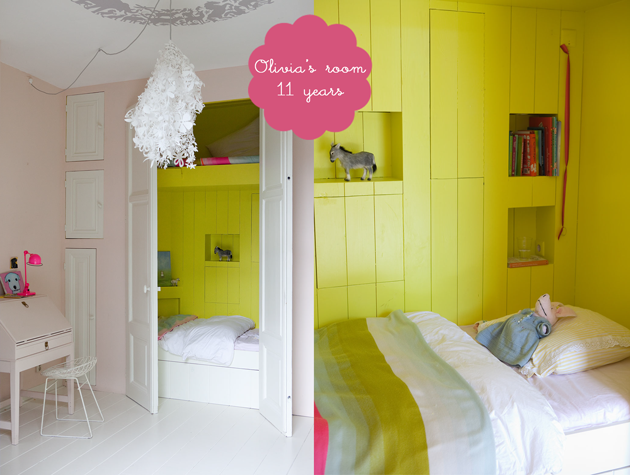 This stunning kids room belongs to Olivia who is eleven years old. She lives with her mum, dad and older sister in Amsterdam in The Netherlands. Olivia's room was decorated by her mama Jessica, who is an interior designer & stylist, cuff link designer, AND a purser! 
Jessica's top design tip for decorating children's rooms is to use humor and provide lots of storage, preferably concealed. Hidden storage is great for parents (who don't have to look at the mess) and kids (who don't have to tidy up all the time). 
Let's find out a bit more about Olivia now…   
♥ What is your favourite food? Mama's noodles.
♥ What do you like doing? I love drawing and I'm really into my kendama.
♥ What is your favourite colour? Bright yellow.
♥ What is your favourite animal? Hippopotamus.
♥ Your favourite book? The Twits by Roald Dahl.
♥ Dresses & skirts or trousers? Trousers!
♥ Where would you like to go one day?  I'd love to go and see the gorillas in Africa, but I'll have to be a bit older.
♥ What would you take to a desert island? My rabbit Henkelien. 
♥ What do you want to be when you grow up? I'd like to do something with animals, maybe a ranger in an African nature reserve. 
♥ What is your favourite thing in your room? The colour of my cabin bed and the secret cupboards.
♥ What is your favourite duvet cover? The one with the sleeping dog (it's just like there's a real dog sleeping on your bed, from Snurk).
Thank you Olivia, it was really nice to meet you!
(photography by dana van leeuwen, design & styling by jessica bouvy)
---