I'm visiting Kleine Fabriek in Amsterdam on Sunday, so will be travelling to Holland again. Kleine Fabriek is an international bi-annual trade show for children's fashion, shoes, accessories and home & gift collections. It's my first visit and I'm really looking forward to it. Watch this space for a full report ; )
Whilst I'm away I wanted to share this cute little find I came accross the other day. It's a duvet cover called 'Bob' from Dutch label Snurk (meaning 'Snore'). Bob is the dog of the photographer who created the image for the duvet cover. Apparently Bob loves sleeping on his owner's bed, but of course, Bob wasn't sleepy at all on the day of the shoot. He finally succumbed to a nap under the warm lights of the studio – et voila.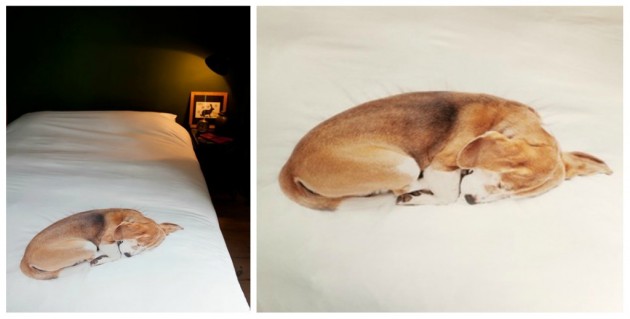 Wouldn't you have loved to have a dog sleeping on your bed like this when you were little? You still can. Bob is available from the Snurk online shop in a range of  UK sizes.
(images: snurk)
---