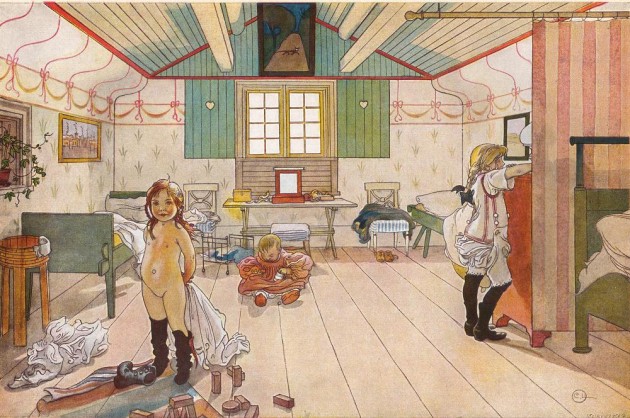 I grew up with prints of paintings by the Swedish artist Carl Larsson, and in my child's mind I somehow imagined that this one above was a painting of me and my sisters. There's me, the eldest – blond – with my middle sister – dark haired – and my little sister – blond again.  
Carl Larsson (1853 – 1919) is best known for the paintings of his home Lilla Hyttnäs and his loved ones – Karin Larsson and their eight children. What I love about them is how they show snapshots of the rhythms of daily life, with toys and clothes strewn on floors, and children in the middle of play. There's open windows, wind in the curtains, flowers inside and outside, a meal in mid preparation… I can gaze at them forever and discover new details every time. 

The home's interiors, with strong reds and greens, were designed by Larsson's wife Karin, who was an artist in her own right. She designed much of the wooden furniture herself, as well as the fabrics, rugs, hangings, and the children's clothes. Now a museum, you can still visit the family house, which remains largely unchanged (see above).

 Here's an image of a little girl's Larsson inspired bedroom I found. I love that timber panelling on the wall!
And here's a little board I've done with Larsson inspired kid's decor: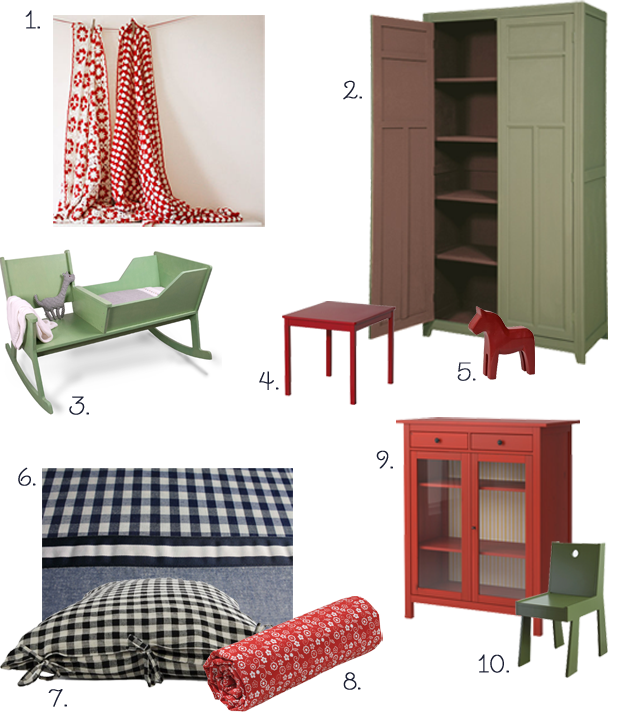 1. rocket and bear blankets  2. laurette armoire parisienne  3. rockid  4. kritter table  5. brunte horse  6. jeans duvet cover  7. check pillow case  8. vertbaudet summer bloom sheet  9. hemnes linen cabinet  10. stek children's chair
If you would like to see more of Larsson's work, have a look here.
x
---