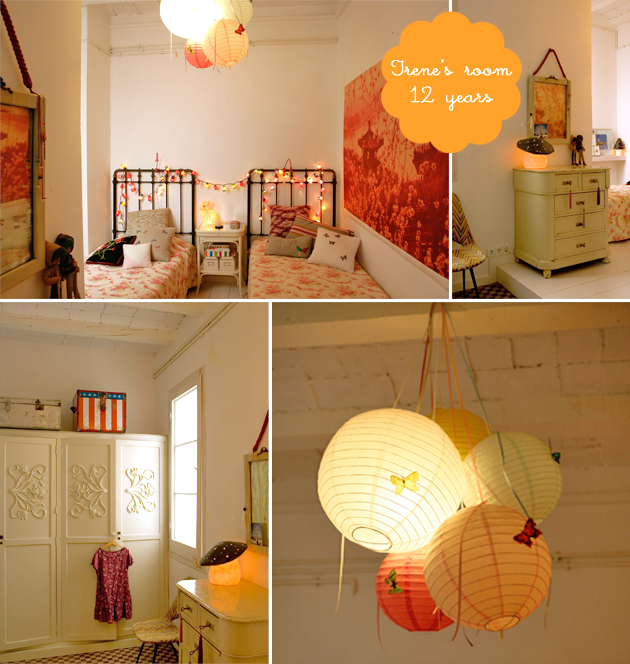 This whimsical girls bedroom belongs to Irene who is 12 years old. She shares the room with her sister Olivia (16). Irene lives with her big family in a modernist flat in the centre of Barcelona, Spain. The girls' bedroom was decorated by their mum Carina, a stylist and graphic designer who has recently co-founded xo-in my room, a blog and webshop focused on kids furniture (see previous post).
Carina's best advice for decorating children's rooms: "Let your children participate. Ask them what they like, as their tastes show their personality."
Let's find out more about Irene now…
♥ What is your favourite food? Pasta with tuna fish.
♥ What do you like doing? Drawing and reading.
♥ Your favourite book? Matilda by Roald Dahl.
♥ Dresses & skirts or trousers? Dresses & skirts.
♥ Where would you like to go one day? To a white beach in the Caribbean.
♥ What would you take to a desert island? My pillow! 
♥ What do you want to be when you grow up? A journalist. 
♥ What is your favourite thing in your room? The little lights at my bed head.
♥ What do you love doing in your room? Reading in bed before going to sleep.
♥ Anything else you'd like to share about your room? On the top of my wardrobe I have a metal box that comes from a real circus!
Thank you Irene, it was really nice to meet you!
(images: xo-in my room)
---